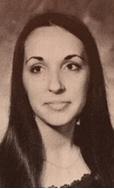 Hello fellow Bears! As many of you already know I lost my husband, Lawrence in 2018. We were married just shy of 42 years. It was a big shock but my friends and family helped me through it all. In 2020 just before the pandemic hit, I began dating our fellow classmate Terry Brown. I'm so excited to say we were married in Dec. 2020! Life together is wonderful! We are so fortunate to have such a deep connection. One which started in our childhood at church and has grown into an amazing, love and respect for each other. Our families have remained healthy and happy throughout this crazy year. We love traveling and spending quality time together here on our slice of paradise. Terry and I look forward to celebrating our 65th birthdays with you when it's safe. Once a Bear always a Bear!
Once the pandemic is over I want to travel all over the world.
 

Yes, absolutely nothing will stop me!
Status:




Married & retired
You can e-mail me at:

Slap@sbcglobal.net