Robert "bobby" Poppenhusen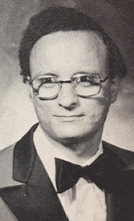 65 and loving it. Moved to the country and bought a few acres with my 9wn fishing pond. Plenty of wildlife all around. I drive school busses to stay busy and I am president of our all volunteer fire dept. Yes, we take any and all donations.
Once this pandemic is over my wife and I will take a much needed trip
What high school friend that you have lost touch with would you like to catch up with & why?  
I would love to catch up with all my cousins.my wife and I have done extensive family research and there is so much to tell them. From royalty to mine workers and beyond to viking kings and gun slingers, Patriots and backstabbed; we had them all.
My favorite saying:
To all young people about to he married: After the wedding is over and the pictyre poses are done, sit back. Take a breath and enjoy the cake. You'll see all those people, soon enough again. ENJOY THE CAKE.
Yes, if at all possible.
Status:




Married & retired, but still working part-time



You can e-mail me at:

Rpoppenhusen@gmail.com