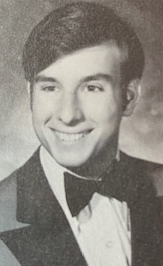 After almost 30 years of being a gypsy and Naval service I am semi-retired. I have a performance consulting firm. I also provide support to Warhorsesforveterans a equine program that helps veterans and first responders with trauma recovery, transition and life enhancement programs.

We are currently living in Iola,Texas where I do horse work. My spouse, Martha is on staff at Texas A&M and working on her PhD. 10 years ago we adopted a child from Ethiopia when I was deployed to East Africa. She's 16 and is doing well. My older children are doing well and despite their father are incredible human beings.


Once this pandemic is over I would like to have a party at my place and enjoy all those I have missed.
  
My favorite saying:  I ain't what I wanna be, but I'm not what I used to be.
No, I do not plan to attend the 50th reunion.
Status:




Married & retired, but still working part-time.
You can e-mail me at:

hoodwr1@yahoo.com