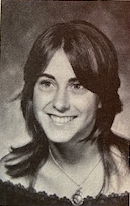 I have been married to Dennis for 38 yrs. I have 2 awesome kids who are my best friends too and 4 fantastic grandkids. A little over 3 yrs ago I got employment with the Department of Homeland Security through the Transaportation Security Administration as an Transportation Security Officer. I am apart of the TSA Honor Guard, Travel Team and Employee Advisory Council. It's been interesting to say the least. I thank Jesus for my family, friends and my job.
Once this pandemic is over I will burn my mask and face shield.
If I could have one do over it I wish I would have taken my high school years more seriously and actually applied myself.
Why, because I know now I can accomplish so much more than I ever thought I could. I learned later in life that with Jesus all things are possible.
Yes I plan to attend the 50th reunion if at all possible!!!!
Status:
Married & still working
You can e-mail me at:

sbhsbears1974@gmail.com