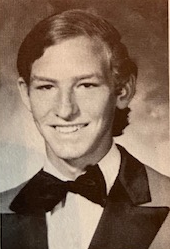 After high school I attended the university of Houston, got an engineering degree, and went to work in Austin for Texas Instruments. There I met and married my wife Donah roughly 38 years ago. After 10 years of TI we returned to Houston where I worked at Compaq computer. In 2016 I took advantage of an early retirement buyout and we returned to the Austin area. We now live in the Spicewood, TX area just west of Austin.
Our son Garrett is married and actually just had their first child (making us grandparents) Feb 6, 2021. He runs his own dental office in Austin. Our daughter Chelsey is engaged to be married this March 30th. She currently works as a dental assistant in Austin. My wife Donah still works in a dental office near by as an insurance specialist.
We are all healthy, the kids turned out great, so all in all, we could not be happier. Its been a long road traveled since being in SBHS for sure!
Once this pandemic is over I would like to go to a nice, popular restaurant with a group of friends and no masks! In fact I may throw a mask-burning party !
The best piece of advice I would share is to Teach your kids/grand-kids how to ascertain for themselves what the facts are and the truth. Too many people just rely on Facebook or whatever their particular news source is and that is by default "the truth" to them.
My favorite saying: There's a reason God gave you two ears and only one mouth. Its twice as important to listen as it is to speak!
No, I do not plan to attend the 50th reunion.
Status:




Married & retired